Very Good Recipes of Banana Bread from Living the Gourmet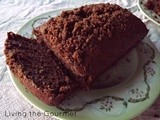 "Shortcut" – Chocolate Banana Bread
By Living the Gourmet
06/07/13 19:06
I have learned that being creative with what the Lord gives us is key and a crucial part to being happy. Well, my daughter was in the mood for dessert and as I looked around there they were the bananas that were waiting to be eaten. I thought, I seem to...
Add to my recipe book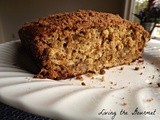 Simple Banana Bread
By Living the Gourmet
05/24/13 06:43
Lots of people like new things. I do like new things, but I love old things. New things need to get personality and lines of time. They need to have memories attached to them so that when you look at them you get a little smile and a fond memory. I love...
Add to my recipe book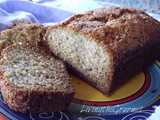 ~ Quick and Delicious Banana Bread ~
By Living the Gourmet
05/23/12 15:45
Inspired by: The New McCall's Cookbook Ingredients: 1 ¾ cups all-purpose flour – sifted 2/3 cup sugar 3 tsps. baking powder ½ tsp salt ¼ tsp baking soda 1/3 cup butter 1 cup mashed very ripe banana – (2 or 3) 2 eggs Preheat Oven 350 degrees: Butter a loaf...
Add to my recipe book