Very Good Recipes of Soup from Melissa Likes To Eat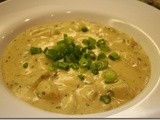 139.0…Hard Rock Cafe's Baked Potato Soup
By Melissa Likes To Eat
06/28/12 23:57
I did something strange last night. I made soup on a hot summer night. Strange it may be, I'm so glad I did it! Now, I've never tasted Hard Rock Cafe's Baked Potato Soup so I don't really know how similar this one is to it. I don't really care…it's tasted...
Add to my recipe book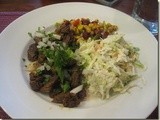 142.8…Grilled Cheese and Autumn Soups
By Melissa Likes To Eat
10/05/11 02:19
Last night's dinner was courtesy of Sunday's barbeque leftovers. Carne asada with onions and cilantro as well as Mexican Bean Salad and Creamy Cole Slaw. I love how the Cole slaw is still crunchy and awesome on day two. Breakfast this morning was an egg...
Add to my recipe book