Very Good Recipes of Paneer from MERI RASOI
There are 2 Paneer recipes on the blog MERI RASOI. (1041 on all the blogs)
Click on the title of a recipe or the photo of a dish to read the full recipe on its author's blog.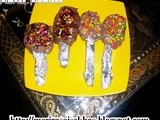 Paneer Choco Stix
By MERI RASOI
01/25/12 05:48
सामग्री मसला हुआ पनीर १ कटोरी वनिल्ला एस्सेंस १/२ चम्मच आइस क्रीम स्टिक्स ४-५ कोको पाउडर २ चम्मच चोकोलेट पाउडर १ चम्मच पीसी चीनी २ चम्मच विधि सबसे पहले बाउल में पनीर, चीनी, कोको पाउडर, चोकोलेट पाउडर डाल के अच्छी तरह से मैश करके मिक्स करें. फिर इसके छोटे...
Add to my recipe book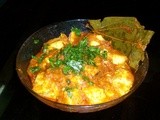 Paneer Lajjatdar
By MERI RASOI
07/03/11 19:42
सामग्री पनीर १ बौल नीम्बू का रस 1 चम्मच गरम masala १/२ चम्मच प्याज का पेस्ट १/२ बौल साबुत गरम मसाला(इलाइची,दाल चीनी, तेज पत्ता लौंग, साबुत धनिया) १ चम्मच अदरक लहसुन पेस्ट १/२ चम्मच दहीं २-३ चम्मच हल्दी पाउडर १/२ चम्मच टोमाटो प्यूरी २ चम्मच धनिया पत्ती २...
Add to my recipe book