Very Good Recipes of Leek from My Little Italian Kitchen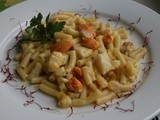 Maccheroncini in scallops, leek and saffron sauce
By My Little Italian Kitchen
01/23/12 19:20
I made this dish over the weekend and I must say everyone was satisfied with it. I found some nice fresh scallops at the fishmongers which made all the difference. If the fish is old then you can guarantee your dish will never be as tasty as you might hope....
Add to my recipe book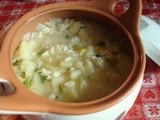 Italian leek and potato soup with rice
By My Little Italian Kitchen
01/09/12 21:50
HAPPY NEW YEAR! After the festive season we all need a bit of a detox or at least we need to go back to a more normal and healthy regime. So today for my family I made this simple and tasty soup which is relatively quick to prepare. Ingredients: 1 onion...
Add to my recipe book