Very Good Recipes of Spinach from noblenourishment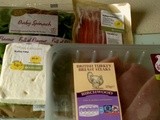 Spinach & Feta stuffed Turkey, wrapped in Pancetta
By noblenourishment
06/20/12 13:42
I've only recently discovered the deliciousness of Feta cheese. Needless to say, I want to add it to everything now! I was originally going to stuff it in chicken, but my supermarket had sold out! In a way, I'm glad. I don't use turkey very often, but it's...
Add to my recipe book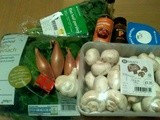 Spinach & Mushroom Stroganoff
By noblenourishment
01/18/12 13:17
After a particularly carnivorous week, I was starting to crave something… vegetable-ish. *GASP* As much as I love my steak, chicken, pork (oh no… I'm drooling now), there was just a gap in my hunger; one that meat couldn't fill! Browsing through the BBC...
Add to my recipe book