Very Good Recipes of Tomato from Paula's Kitchen Table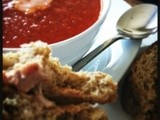 Quick Tomato Soup
By Paula's Kitchen Table
04/11/12 15:16
I must admit when I threw a few things in the pan today at lunchtime I hadn't fully decided what I was making, warm salsa, pasta sauce or soup! I had some leftover cold roast chicken so I knew I wanted something to go with that and this is what it became,...
Add to my recipe book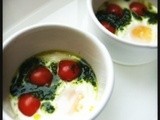 Pesto and Cherry Tomato Baked Eggs
By Paula's Kitchen Table
03/06/12 13:27
Since stumbling upon the blogging world in Ireland and becoming part of it I have had so much fun. Photography workshops, friendships, laughter, nights away and fantastic meals have all come my way. En route home yesterday from a wonderful tweet up and...
Add to my recipe book