Very Good Recipes of Pernil
There are 3 Pernil recipes on Very Good Recipes.
Do you like pernil recipes?

Click on the title of a recipe or the photo of a dish to read the full recipe on its author's blog.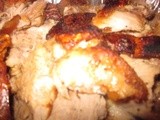 Happy thanksgiving! Pernil (roast pork)
By Culinary Chronicles
12/15/12 16:41
Hi everyone, hope your all doing well on this wonderful Thanksgiving morning. My apologies for posting this recipe "day of" Thanksgiving, but I've been really busy. For the first time ever, I can say I am now working in the "food" industry FINALLY! No,...
Add to my recipe book
Pernil al horno parte dos (roast pork shoulder part two) & giveaways
By The Self-Taught Cook
03/26/12 13:47
W ith all traditional recipes, there are always as many ways to cook them as there are cooks. While rummaging through my recipe cards, I found this recipe. This is the first recipe I used to cook Pernil al Horno when we first got married. While it is a...
Add to my recipe book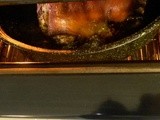 Pernil (roast pork shoulder)
By The Self-Taught Cook
04/27/11 03:37
During the Christmas season, one of the most popular traditional dishes served in a Puerto Rican home is pernil. Pernil is a pork shoulder that has been marinated and roasted in the oven for several hours. Some people prefer the pork butt for this, but...
Add to my recipe book