Very Good Recipes of Banana from Raksha's Kitchen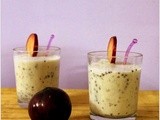 Plum Banana Smoothie
By Raksha's Kitchen
07/25/14 18:33
D uring that day when I return home tired from office and when I don't have any stamina to cook, I blend some delicious smoothies. They are filling and nutitious. Today I thought of trying a smoothie with Plums. I thought of mixing plum, bananas and chia...
Add to my recipe book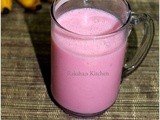 Rose Banana Milkshake
By Raksha's Kitchen
01/16/14 15:00
I like to experiment with food. I was actually bored of the regular milkshake, specially the banana milkshake. So instead of simply blending, I tried with the rose syrup which was lying in my fridge. The mixture of banana, rose and milk was indeed awesome....
Add to my recipe book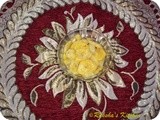 Banana Halwa
By Raksha's Kitchen
02/20/12 15:02
B anana Halwa... The thought of this brings water to my daughter and hubby's mouth. My daughter loves to have this everyday for breakfast with a chapati. My hubby too loves this and prefers this home-made halwa to any types of ready made jams. My mom is...
Add to my recipe book