Very Good Recipes of Spicy from Raksha's Kitchen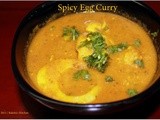 Spicy Egg Curry
By Raksha's Kitchen
08/22/13 18:08
W hen I was a little girl, I used to never eat eggs. My Mom would find some innovative ways to make me eat eggs. One such way was to make egg curry and tell me that it has "Golden Egg". The egg when taken out of the curry would look golden. Yes, try it...
Add to my recipe book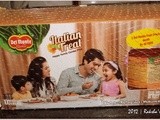 Tangy Spicy Farfalle Pasta
By Raksha's Kitchen
09/15/12 17:04
I talian Pasta is something that my hubby never liked much. But still I wanted to experiment with it and I am sure one fine day I will be able to make the best pasta. This time I experimented with Farfalle Pasta. Farfalle Italian means "Butterflies". I...
Add to my recipe book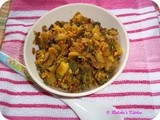 Tangy-Spicy Bitter gourd / Karatyachi Kishmoor
By Raksha's Kitchen
12/22/11 09:18
D uring my first job at Zuari Industries Ltd., one of my friend got Karatyachi Kishmoor in her tiffin box. She asked me to taste it. First I said NO, as I don't like bitter gourd. She just asked me to take one bite and promised that it tastes great. I hesitated...
Add to my recipe book