Very Good Recipes of Cabbage from Recipes For My Boys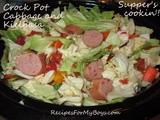 Crock Pot Cabbage and Kielbasa
By Recipes For My Boys
Subscribe
01/04/13 03:42
I needed to make something healthier for us after the holidays. Although I am still going to make a cake or pudding or muffins or, or, or... Well, something anyway. Hopefully this will make up for whatever it is I am about to throw together. Hubby and I...
Add to my recipe book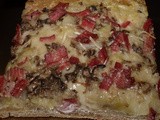 Corned Beef, Cabbage, Portobello Wheat Crust Pizza
By Recipes For My Boys
Subscribe
03/24/12 04:35
A fun way to celebrate St. Patrick's Day! Turn your corned beef and cabbage into a delicious pizza! I entered this on Recipe Riot . Enter your recipe for a chance to win, too. <3 and hugs! Corned Beef, Cabbage, Portobello, Wheat Crust Pizza Fleischmann's...
Add to my recipe book