Very Good Recipes of Mango from Recipes For My Boys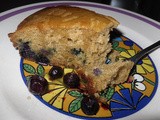 Whole Wheat Blueberry Mango Coffee Cake and Robin's Sour Cream Coffee Cake
By Recipes For My Boys
03/28/12 18:27
Before I started my blog last summer, I asked a few friends and family members, if they would share a recipe with me so I could write a cookbook for my boys. Being an older parent, I wanted to leave something for my precious boys. My Beautiful parents have...
Add to my recipe book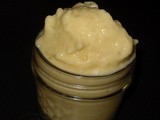 Banana Mango Frozen Yogurt
By Recipes For My Boys
03/27/12 03:06
AWWWW.....Brain Freeze!!! This was the effect of eating too much of this, too fast!!!!! Lucas is sick and wanted frozen yogurt. Hubby didn't get a chance to get any while filling prescriptions today, so...I made some! It isn't overly sweet so add the orange...
Add to my recipe book