Very Good Recipes of Tomato from Republic of curries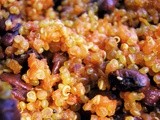 Tomato flavored quinoa with field peas
By Republic of curries
10/07/11 20:12
quinoa was cooked following the tomato rice recipe. i added 1/2 a cup of cooked field peas to make the dish heartier. perfect for a cold fall day. you can serve this with all kinds of greens, vegetables or meats. i kept it simple with a spritz of lemon....
Add to my recipe book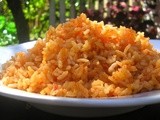 Tomato Rice.....or Spanish Rice
By Republic of curries
09/09/11 23:17
a basic rice dish that can be served with indian as well as mexican meals. also, a great tasting way to use up all those tomatoes pouring off of your vines. feel free to add mushrooms, green peas, sliced zhucchinis, cooked black beans or any vegetable you...
Add to my recipe book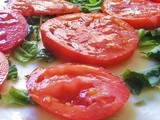 Tomato Basil Pizza
By Republic of curries
09/04/11 02:42
follow the basic pizza crust recipe here....add lots of finely chopped garlic and 1 tbsp fennel seeds to the dough. let dough rise for 30 min - 1 hour. roll out dough onto an oiled and semolina flour coated pizza tray. i dont necessarily prebake since i...
Add to my recipe book