Very Good Recipes of White from Rising To The Berry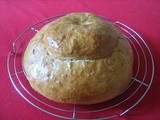 White Cottage Loaf
By Rising To The Berry
09/26/11 19:15
Recipe Number Ninety Three: Page 285. For the last few weeks I have been gorging on very rich cakes and bakes. I have to admit that, for the last few days, I have felt even more sluggish than usual! I felt I had to take action and bake something savoury...
Add to my recipe book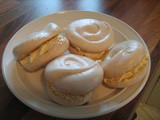 Basic White Meringues
By Rising To The Berry
05/26/11 18:56
Recipe Number Forty One: Page 355. Today was just one of those days where I had to accept that I wasn't going to get anything done! My little boy is getting increasingly active; I have to have my beady eye on him constantly. Also, naps were not on his agenda...
Add to my recipe book