Very Good Recipes of Bar from Salad in a Jar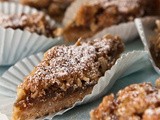 Chewy Coconut-Pecan Bars | My Slick and Shiny Secret Weapon
By Salad in a Jar
07/27/13 14:18
If a pecan pie married a shortbread cookie, the offspring might look like this chewy coconut-pecan bar.
Add to my recipe book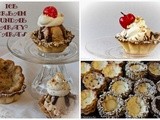 Ice Cream Sundae Mini-Tart Party Bar
By Salad in a Jar
12/01/12 23:47
"When choosing between two evils, I always like to try the one I've never tried before." Mae West This is pretty much my philosophy about dessert. Actually, I just love having choices, and evidently other people like choices too, based on the way ice cream...
Add to my recipe book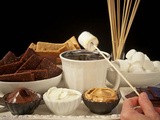 Graham Cracker Party Bar Including a diy s'mores Table-Top Grill
By Salad in a Jar
12/26/11 21:09
A great party idea using graham crackers, multiple spreads and a homemade table-top grill to make s'mores.
Add to my recipe book