Very Good Recipes of Cheese from Tales of a Garlic and Onion Lover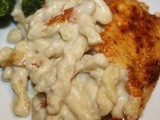 Baked Macaroni and Cheese
By Tales of a Garlic and Onion Lover
09/06/13 19:00
Sometimes you just want a little comfort food... 8 oz. of macaroni or other pasta of choice 3 Tbs of butter 1/4 cup of flour 1/2 tsp salt 1/2 tsp mustard 1/4 tsp pepper 1/8 tsp sweet paprika, plus extra for on top 2 1/2 cups 2% milk (we used 1% and it worked)...
Add to my recipe book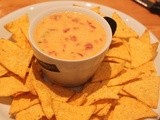 Velveeta Cheese Dip
By Tales of a Garlic and Onion Lover
10/12/12 20:06
For the most part we try to make things from scratch, (or mostly scratch, as in plain tomato sauce with our own herbs and spices) but some days you just got to go for the unhealthy processed tastiness. Thanks to the amazing care package from a good friend...
Add to my recipe book