Very Good Recipes of Fried from Tales of a Garlic and Onion Lover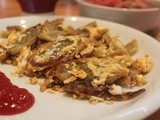 Fried Maultaschen and Egg
By Tales of a Garlic and Onion Lover
09/21/12 20:17
Unfortunately, if you are not in Germany or do not have access to Southern German food, this dish will be nearly impossible to make. There is a way to make your own maultaschen but we haven't tried it yet...hopefully, that will be a project in the near...
Add to my recipe book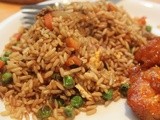 Easy Fried Rice
By Tales of a Garlic and Onion Lover
05/16/12 17:36
This fried rice is very easy but tastes just like the stuff you get when you eat out. We served it with our Best Sweet and Sour Chicken Ever. 3 cups cooked fried rice (It is best if it is leftover rice or at least one day old.) 3 Tbs oil 1 cup (total) peas...
Add to my recipe book