Very Good Recipes of Burger from Teenz' Yummy Delights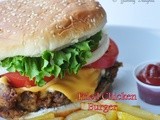 Fried Chicken Burger
By Teenz' Yummy Delights
07/14/13 23:21
Burger made with sesame Bun, Fried chicken, Lettuce, Tomato, Onion and Cheese. Ingredients Sesame bun Sliced Tomato Sliced Onion Lettuce Cheese slices Fried Chicken Mayonnaise Directions: Prepare Buttermilk Fried Chicken. Cut the buns and spread mayonnaise...
Add to my recipe book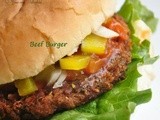 Saucy Beef Burger
By Teenz' Yummy Delights
04/01/13 19:49
Burger made with g rilled b eef patty, pickles, onion, lettuce and tomato flavoured sauce. Ingredients for the sauce 1 cup Tomato sauce 1/4 cup chopped Celery 1/4 cup chopped green bell pepper Directions: Take a pan, saute pepper and pour in ketchup. Add...
Add to my recipe book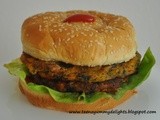 Veggie Burger
By Teenz' Yummy Delights
12/02/11 21:00
Ingredients for the veggie patties: 1/4 cup cooked Chick peas or Garbanzo beans 3 tbsp All purpose Flour (Maida) 1/4 cup Cilantro (Coriander leaves) 1/2 cup chopped Onion 1/2 cup mashed Potato 2 tbsp Spinach 1/2 cup grated Carrot 1/2 tsp Cumin powder 2...
Add to my recipe book