Very Good Recipes of Blueberry from The Freshman Cook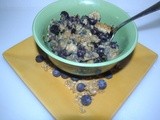 Blueberry Bars are now Blueberry Crumbs
By The Freshman Cook
04/25/12 06:08
I went shopping to get some granola. Or maybe just to see what was available. I'm not sure. I wanted to make some homemade granola bars to send to my son at school. But I saw this box of Organic Cascadian Farm French Vanilla Almond Granola and it had this...
Add to my recipe book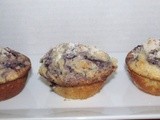 Blueberry Muffins w/ Lemon Sugar Topping~Crazy Cooking Challenge
By The Freshman Cook
04/07/12 18:00
My favorite thing about the Crazy Cooking Challenge is the hunt! Every month we are given a food which we are to find a recipe for, on a blog somewhere on the world wide web, make the food, and then blog about it! It is such fun!! This month the food we...
Add to my recipe book