Very Good Recipes of Applesauce from The Iowa Housewife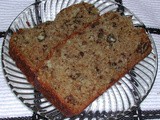 Nutty Applesauce Bread
By The Iowa Housewife
09/12/12 08:00
Today I used the Homemade Crisco Quick Bread Mix from the Crisco Cooking book that Sue had made for me. We shared a batch of the mix, but I am going to make some up to have on hand in my freezer. It was good, fast and quick to make. The breads turned out...
Add to my recipe book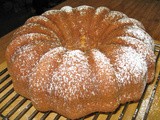 Applesauce Walnut Cake
By The Iowa Housewife
12/09/11 08:00
Amy was looking through my copy of Duncan Hines Holiday Spectacular cook booklet , and found a recipe for Applesauce Walnut Cake. She had applesauce on hand and thought the recipe looked good, so decided to make it for the blog. The verdict was that she...
Add to my recipe book