Very Good Recipes of Apple from The Sugar Waltz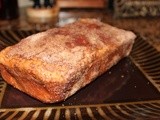 Cinnamon Apple Cake
By The Sugar Waltz
12/15/11 01:28
My niece is the sweetest, most adorable little girl that you will ever meet. I came over to my sister's house this afternoon and my niece attacked me out in the driveway. She was so excited to see me and said that she had a HUGE surprise for me. She brought...
Add to my recipe book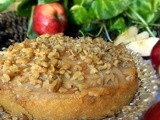 67/99: Apple Upside Down Cake
By The Sugar Waltz
11/26/11 00:06
The apple upside down cake was really fun because one of my friends, Augusta, came over to help! It was so great! I normally don't like upside down cakes because I think they're kind of ugly but seeing as this is the first recipe in Rose's Heavenly Cakes,...
Add to my recipe book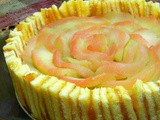 7/99 Apple Caramel Charlotte
By The Sugar Waltz
06/27/11 06:31
The Apple Caramel Charlotte is a cake that I've been looking forward to making for quite awhile. It's a really pretty cake in the end with the stacked cake crust and the apple rose in the middle. The one problem with this cake though is that it takes quite...
Add to my recipe book