Very Good Recipes of Roasted from This Dame Cooks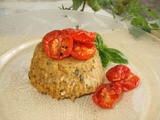 Sweet Potatoes with Basil Pesto and Roasted Cherry Tomatoes
By This Dame Cooks
03/30/12 23:20
This is my recipe for the 2012 NC Sweet Potato "No More 'Mallows" Blogger Recipe Contest! Every year I try to create a sweet potato recipe that will WOW my friends and the NC Sweet Potato Commission. This could be it! It all started with picking basil for...
Add to my recipe book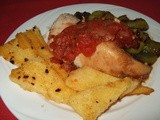 Roasted Chicken with Tuscan Sauce, Fried Polenta and Balsamic Peppers
By This Dame Cooks
10/03/11 10:53
Remove the skin of the chicken if you must and top it with a quick Tuscan sauce and shaved Parmesan. Polenta triangles sauteed in butter and garlic provide the starch and sauteed aje dulces chiles (or bell peppers) with a drizzle of Balsamic vinegar lend...
Add to my recipe book