Very Good Recipes of Sauce from This Dame Cooks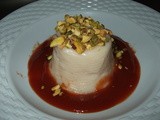 Coconut Pistachio Tembleque with Guava Rum Sauce
By This Dame Cooks
03/21/14 05:00
Egg-less, gluten-free, and milk-less this pudding is the perfect dessert for those with health restrictions. Coconut Tembleque with Guava Sauce is the classic pudding of Puerto Rico. It is made with only coconut milk, cornstarch, sugar and a pinch of salt......
Add to my recipe book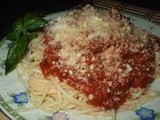 Dad's Spaghetti Sauce
By This Dame Cooks
03/11/12 18:56
This recipe makes enough for 12 servings of lasagna or eggplant parmigiana, 6 extra-large servings of spaghetti, and probably a dozen pizzas, calzones and stromboli. It freezes well and is always better a day or two after its made.
Add to my recipe book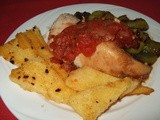 Roasted Chicken with Tuscan Sauce, Fried Polenta and Balsamic Peppers
By This Dame Cooks
10/03/11 10:53
Remove the skin of the chicken if you must and top it with a quick Tuscan sauce and shaved Parmesan. Polenta triangles sauteed in butter and garlic provide the starch and sauteed aje dulces chiles (or bell peppers) with a drizzle of Balsamic vinegar lend...
Add to my recipe book