Very Good Recipes of Sauce from This Dame Cooks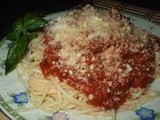 Dad's Spaghetti Sauce
By This Dame Cooks
03/11/12 18:56
This recipe makes enough for 12 servings of lasagna or eggplant parmigiana, 6 extra-large servings of spaghetti, and probably a dozen pizzas, calzones and stromboli. It freezes well and is always better a day or two after its made.
Add to my recipe book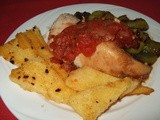 Roasted Chicken with Tuscan Sauce, Fried Polenta and Balsamic Peppers
By This Dame Cooks
10/03/11 10:53
Remove the skin of the chicken if you must and top it with a quick Tuscan sauce and shaved Parmesan. Polenta triangles sauteed in butter and garlic provide the starch and sauteed aje dulces chiles (or bell peppers) with a drizzle of Balsamic vinegar lend...
Add to my recipe book