Very Good Recipes of Sésame from Tips for Delicious and Healthy Cooking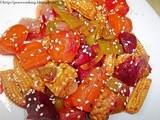 Mixed Vegetable With Toasted Sesame Seeds
By Tips for Delicious and Healthy Cooking
03/22/12 16:56
Mixed vegetable salads are always my favorite as they are eye appealing, loaded with nutrients and good to eat. When you are making a healthy diet choice such recipes are keepers. So today I am sharing with you a very easy quick to make mixed vegetable...
Add to my recipe book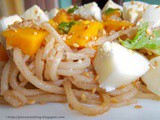 Delicious Noodles With Mango, Boiled Egg And Roasted Sesame Seeds
By Tips for Delicious and Healthy Cooking
06/28/11 17:51
I don't know why my carving for mangoes reach to its height when the season for this summer food begins to end. Prices too are also going up each and every day and I am going crazy to add mangoes almost anything my head-office could think and suggest me....
Add to my recipe book