Very Good Recipes of Spicy from We love to cook and eat!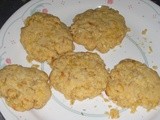 Spicy Cheese Cookies
By We love to cook and eat!
01/27/12 01:49
Amanda, a coworker of Shannon's, brought these into work today. He thought they were pretty good, something different, a spicy cookie. So I made these tonight - not bad. I didn't include pecans. 2 sticks butter, softened ¼ c. sugar 2 c. flour 2 c. rice...
Add to my recipe book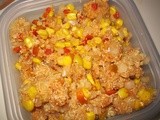 Spicy Quinoa Salad
By We love to cook and eat!
08/26/11 03:03
I found this recipe on Cooking Quinoa along with many others I want to try. Even though this is suppose to be eaten cold - I ate it warmed up. I am not into cold salads. This is the first time that I have eaten Quinoa - and it is my NEW FAVORITE!!!!!!!!...
Add to my recipe book