Very Good Recipes of Egg from Wholesome Ireland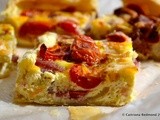 Egg Tarts
By Wholesome Ireland
08/14/14 13:43
I'll keep it short today! These egg tarts are great for lunchboxes. You can make them ahead and they will keep in a lined box in the fridge for up to 2 days. They also reheat very well too. I just lash whatever squishy veg/leftover meat I have in the fridge...
Add to my recipe book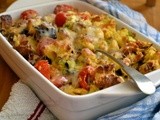 Bread And Egg Bake
By Wholesome Ireland
05/12/14 21:24
What do you do with a loaf of stale bread? Do you make breadcrumbs, maybe some croutons? Bakery style bread doesn't tend to stay soft and fresh for very long in this house. Himself bought a turnover on Saturday and by this morning it was well past it's...
Add to my recipe book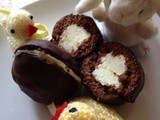 What Easter Eggs
By Wholesome Ireland
04/10/12 11:35
I'm a foodblogger with good intentions. Plenty of good intentions, and since last Wednesday I've been tormented by my homemade Easter Eggs. Walking through our large Tesco that morning I found some silicone egg moulds...
Add to my recipe book