Very Good Recipes of Pickled from yummylittlecooks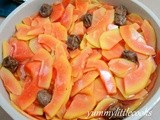 Pickled Papaya
By yummylittlecooks
09/16/11 08:35
Wendy made this papaya pickles and she arranged it beautifully. She also showed us step by step on how to do the pickle, and that really made me drooling. Ermm... I made this pickle twice. On my first batch, I used store bought papaya which are more greeny...
Add to my recipe book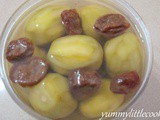 Pickled Ambarella/Great Hog Plum (Buah Kedondong)
By yummylittlecooks
06/04/11 06:40
I got this Ambarella/great hog plum/ buah kedondong from my sister.She gave me a bag of it, and my niece teach me how to pickle it.It is so nice.While typing this, I got a bowl of it on my table...very nice.It is easy and simple method, and would like to...
Add to my recipe book