Very Good Recipes of Prawn from A Girl's Diary..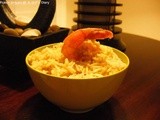 Prawn Biriyani
By A Girl's Diary..
03/26/12 20:39
Biriyani as we all know is all about cooked rice with spices and non-veg/veg. It is said that the origin of biriyani is from Iran. But in India this dish has achieved such a high popularity that it has become our own dish now. India being the land of spices...
Add to my recipe book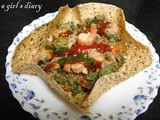 Prawn Salsa
By A Girl's Diary..
09/06/11 12:58
For the past few days I am not being able to catch up with my fellow blogger friends properly. As the Durga puja is only a month away , I am a little messed up with all the to do list. This salsa recipe was just an experiment. I was actually not sure of...
Add to my recipe book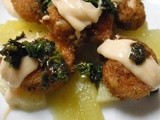 Wasabi Prawn
By A Girl's Diary..
08/24/11 08:21
After a long time I made some prawn dish yesterday. I had eaten this dish earlier and liked it a lot. I tried to make my own Wasabi Prawn recipe according to my taste and it turned out simply awesome. Just try it , you will love the flavors of fruits with...
Add to my recipe book