Very Good Recipes of Vegetable from A Girl's Diary..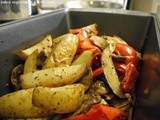 Baked Vegetable
By A Girl's Diary..
03/07/12 02:26
This baked vegetable recipe is a bit spicy and tadkedar. You can always mix and match different spices for this baked vegetable recipe. And that is the best part of it. Ingredients : 1. Potato (small)- 3 2. Red bell pepper- 1 3. Mushroom- 6 4. Salt to taste...
Add to my recipe book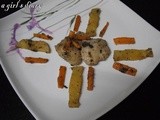 Fish with Vegetables
By A Girl's Diary..
09/08/11 06:31
A nice blend of the sourness and sweetness. The tender fish fillets with the vegetables tastes really good. If you are not comfortable with wine , use soy sauce or Worcestershire sauce. Ingredients : 1. Fish fillets- 4 2. Ginger-garlic paste- 1 tbs 3. Black...
Add to my recipe book