Very Good Recipes of Strawberry from A Girl's Diary..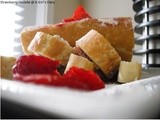 Strawberry Roulade
By A Girl's Diary..
Subscribe
04/25/12 20:42
This is the first time I tried my hands on roulade recipes. And what else can I make apart from the famous Strawberry Roulade!! The mild sweetness of this roulade impressed us a lot as we both are not that big fan of sweets. If you prefer extra sweetness,...
Add to my recipe book
Chicken in Strawberry and Red wine Sauce
By A Girl's Diary..
Subscribe
08/22/11 08:50
Recently I have started using wine in my recipes. Though I was a bit worried about the taste , but it has not let me down yet :) Ingredients : 1. Chicken- 2 medium boneless pieces 2. Orange juice- 2 tbs 3. Lemon juice- 1 tbs 4. Salt to taste 5. Black pepper...
Add to my recipe book