Very Good Recipes of Sweet from Amy's Cooking Adventures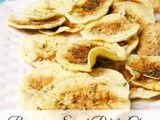 Src: Rosemary Sweet Potato Chips
By Amy's Cooking Adventures
02/17/14 06:00
It's Secret Recipe Club time again! Again?!? Yep, we get a twofer this month, as I step in to help group C (another blogger had a family emergency). So, for double SRC month, I was assigned Kristy's blog, She Eats. Kristy loves using local, seasonally grown...
Add to my recipe book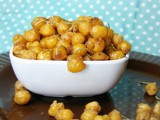 Sweet & Spicy Roasted Chickpeas
By Amy's Cooking Adventures
01/26/14 14:30
Confession time: I'm a huge snacker. And I'm also an at home mom, with access to my kitchen and refrigerator full of delicious things all day long. And sure, there's an apple in the refrigerator, and all the fixings for a stellar salad, but what do I reach...
Add to my recipe book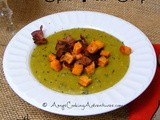 Split Pea Soup with Sweet Potato Hash
By Amy's Cooking Adventures
09/05/13 14:30
As the leaves begin to turn as fall is on the horizon, it's time to break out those warm, comforting soups again. Split pea soup can be a little disconcerting, because it is green. It is very green and a little off putting. But the flavors are so amazing!...
Add to my recipe book