Very Good Recipes of Food from babà che bontà
There are 3 Food recipes on the blog babà che bontà. (2878 on all the blogs)
Click on the title of a recipe or the photo of a dish to read the full recipe on its author's blog.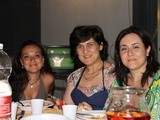 Food incontri estivi
By babà che bontà
08/18/12 17:27
Ho sempre pensato alla blogosfera, come ad una sorta di buco della serratura, da cui sbirciare nella vita di chi decide di aprire un blog. In effetti, babà che bontà rappresenta una finestra aperta sulla mia cucina, o forse..... rappresenta molto di più....
Add to my recipe book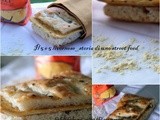 Il cinque e cinque: storia di uno street food
By babà che bontà
06/16/12 21:44
Ancora una volta vi parlo della Toscana. Splendida terra, dai colori magici e paesaggi mozzafiato. Terra delle grandi tradizioni, che in tavola regala grandi piatti. Lo scorso anno, al mio rientro dall'Elba, vi ho parlato della "cecìna ". Quella di Plinio,...
Add to my recipe book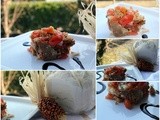 Quando il cibo non è solo necessità: comfort food e pane biscottato
By babà che bontà
01/24/12 19:27
Il cibo come consolazione, ricordo, sapore e profumo di un tempo. Profumi e sapori che rimangono dentro, scolpiti nella memoria olfattiva e degustativa di ognuno, che ogni tanto ritornano. Ritornano insistenti, come un dejavu. A chi non è capitato, almeno...
Add to my recipe book