Very Good Recipes of Bean and Broad Bean
There are 3 Bean and Broad Bean recipes on Very Good Recipes.
Do you like bean and broad bean recipes?

See all bean recipes or all broad bean recipes.
Click on the title of a recipe or the photo of a dish to read the full recipe on its author's blog.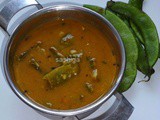 அவரைக்காய் சாம்பார் / avarakkai (broad beans) sambar
By Sashiga Kitchen
02/17/15 14:36
Print it ஒவ்வொரு காய் போட்டு சாம்பார் வைக்கும் தனி ருசி தான்.அதில் நாட்டு அவரைக்காயும் ஒன்று.இந்த காய் போட்டு சாம்பார் வைக்கும் போது சாம்பாரின் ருசியே தனிதான். நாட்டு அவரைக்காய் சமைக்கும் போது சீக்கிரம் வெந்து விடும். தே.பொருட்கள் நாட்டு அவரைக்காய் -10...
Add to my recipe book
Yogurtlu Bakla, Broad Beans in Yogurt
By Turkish Cooking Everyday
05/18/11 21:00
For those who are lucky enough to be able to to buy fresh broad beans here is another recipe for you to try. Im fairly sure you havent eaten this before if you are non Turkish. Very easy and nice and can be eaten cold. Ive had to change my attitude on what...
Add to my recipe book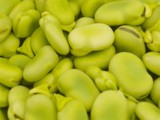 Broad Beans - Bakla
By Turkish Cooking Everyday
05/10/11 15:07
One thing I like about living here is that the food you are buying is what is in season so therefore is healthy for you. There are strong arguments out there saying that eating in season is what we are supposed to be doing and is the best for our bodies....
Add to my recipe book