Very Good Recipes of Tarts from Carmela's kitchen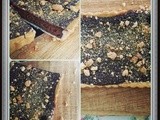 Indulgent chocolate and amaretto tart
By Carmela's kitchen
04/28/14 10:02
This tart encapsulates everything about my sweet tooth love of food. A combination of chocolate whilst holding a light boozy balance of amaretto liquor, adds to the silkiness of this deep flavoured tart. The crumbled amaretto crumb adds texture and a little...
Add to my recipe book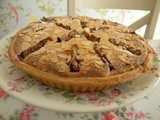 Seasonal jam and fig tart
By Carmela's kitchen
09/17/12 13:22
A fig tastic tasty sensation, yes your right. A delicious slice served warm with cream or cold with tea. This is my cheats recipe. From start to finish you can have this beautiful tart ready within the hour. Figs are in season right now however due to the...
Add to my recipe book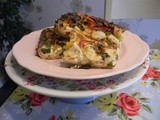 Roasted pepper & feta tart
By Carmela's kitchen
05/22/12 12:08
So satisfying and quick to prepare. Perfect alongside a simple salad, for lunch or as a light evening meal. For my tart I have opted to show you the fast version using ready made pastry. If you have the time it is always best to try and make the pastry...
Add to my recipe book