Very Good Recipes of Cake from Earthwalkers 'food.people.culture.places'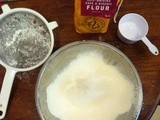 Banana and Walnut cake / Sweet Mondays 'stressed is desserts spelled backwards'
By Earthwalkers 'food.people.culture.places'
Subscribe
03/15/12 08:47
Sift flour and bicarbonate soda chop up butter and allow to soften cream the butter and sugar together - quick tip - place over stove and start mixing together. Once soft and easier to mix together, remove from flame and continue to cream until light and...
Add to my recipe book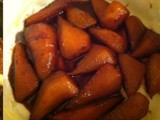 Caramelised Pear Cake / Desserts
By Earthwalkers 'food.people.culture.places'
Subscribe
02/26/12 02:56
As we launch 'Stressed is Desserts spelled backwards" Sweet Monday desserts, we couldn't think of a better recipe to feature first, than this one! This cake is incredibly moist, luxurious and decadent. The pears goes back beautifully with the caramel, and...
Add to my recipe book