Very Good Recipes of Rosemary from Earthwalkers 'food.people.culture.places'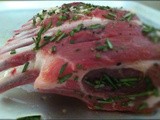 Rack of Lamb / Garlic and Rosemary potatoes
By Earthwalkers 'food.people.culture.places'
Subscribe
02/06/12 13:01
A dish we have cooked on many occasions, especially for friends. This recipe always gets a great response! The best part about this dish is in the preparation - the aromas of the garlic and rosemary make our heart sing! Turn on your favourite tunes, pour...
Add to my recipe book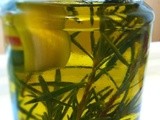 Rosemary and Garlic infused oil
By Earthwalkers 'food.people.culture.places'
Subscribe
02/06/12 13:00
We missed our Thursday cooking tip last week, so here it is! Rosemary and Garlic Infused Oil This is easy peasy! Pour good quality olive oil into a sterilized jar (you will find this in our earlier posts) Add garlic cloves and rosemary Seal with tightly...
Add to my recipe book