Very Good Recipes of Baked from Experiments of a Housewife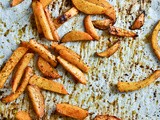 Oven baked Rutabaga Fries, a Review & a Giveaway
By Experiments of a Housewife
05/23/12 04:33
So after more than a month of no blogging, I am back and plan to keep it that way. I could give you the reasons for not blogging, but I realize I will just end up whining. And that is something I just don't want to do, especially today. Since I have been...
Add to my recipe book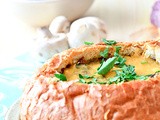 Spinach & Mushroom Omelet baked in a Bread Boule
By Experiments of a Housewife
02/09/12 06:22
An omelet baked in bread. What the F, right?? I know, that was my reaction too when I saw this on Josie's site Pink Parsley. Like her, I too wondered why can't I ever come up with such brilliant ideas. You have dips served in bread boules, soups served...
Add to my recipe book