Very Good Recipes of Spinach from Experiments of a Housewife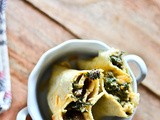 Cooking with the books: kaf's Savory Spinach Mushroom filled Whole Wheat Crepes
By Experiments of a Housewife
07/26/12 05:58
(This is Post 3 in the series Cooking with the Books.) I started the "Cooking with the books" series to reacquaint myself with the hoards of cookbooks I have on my bookshelf. And I am so happy that I did. All the cookbooks that I have bought (new or second...
Add to my recipe book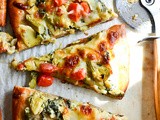 March src: Spinach Artichoke Whole Wheat Pizza
By Experiments of a Housewife
03/05/12 18:00
My SRC assignment for the month of March was to make something from the site Baking & Boys. Baking and Boys is a blog managed by the talented Katrina. Katrina has been blogging since Feb, 2008- that means she has been blogging for more than 4 years now....
Add to my recipe book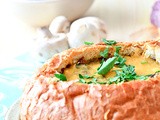 Spinach & Mushroom Omelet baked in a Bread Boule
By Experiments of a Housewife
02/09/12 06:22
An omelet baked in bread. What the F, right?? I know, that was my reaction too when I saw this on Josie's site Pink Parsley. Like her, I too wondered why can't I ever come up with such brilliant ideas. You have dips served in bread boules, soups served...
Add to my recipe book