Very Good Recipes of Crepe from Experiments of a Housewife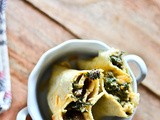 Cooking with the books: kaf's Savory Spinach Mushroom filled Whole Wheat Crepes
By Experiments of a Housewife
07/26/12 05:58
(This is Post 3 in the series Cooking with the Books.) I started the "Cooking with the books" series to reacquaint myself with the hoards of cookbooks I have on my bookshelf. And I am so happy that I did. All the cookbooks that I have bought (new or second...
Add to my recipe book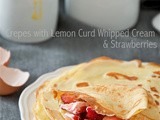 January Recipe Swap: Crepes with Lemon Curd Whipped Cream
By Experiments of a Housewife
01/09/12 07:51
I actually forgot about this one. I do not know why, but I was under the impression that Christianna had said we will take a break for the month of January. I guess it was the lazy-holiday bone in me that probably convinced my brain that we were on a break....
Add to my recipe book