Very Good Recipes of Chocolate Chip Cookies from Experiments of a Housewife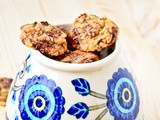 Browned Butter Chocolate Chip Cookies
By Experiments of a Housewife
Subscribe
02/14/12 06:11
You know you are doing good with your exercise regime, when instead of avoiding to wash your jeans (since they get tight after a wash and you lose the "loose" fit), you actually prefer washing them so that they fit you better. And that's what I had been...
Add to my recipe book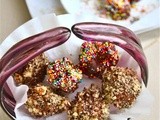 Recipe Swap: Not "that" fattening Chocolate Chip Cookie Dough Truffles
By Experiments of a Housewife
Subscribe
12/05/11 02:00
I missed last time's recipe swap. The brainchild of Christianna from Burwel General Store, the Recipe Swap Club turned ONE last month! And I missed it! Well, nothing can be done about it now. But, you sure could check out everyone's lovely creations here....
Add to my recipe book