Very Good Recipes of Slow Cooker from Experiments of a Housewife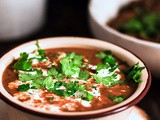 Garam Masala Tuesdays: Slow Cooker Dal Makhani
By Experiments of a Housewife
10/23/13 04:19
Preparation: 10 min - Cooking: 16h I know I have posted about Dal Makhani once before on GMT. And while this is more or less the same recipe, it is one that I make in the slow cooker now so I thought a repost of it was necessary. Plus, there are some changes (albeit slight) to the recipe,...
Add to my recipe book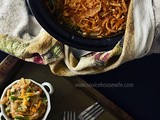 Jamie's Slow Cooker Tater Tot Casserole
By Experiments of a Housewife
08/02/12 02:35
Ok….I have to ask- how do you moms do it????? You have to be super human beings. I mean, c'mon. You just have to be. You are constantly running after your kids- making them their meals, giving them baths, making them snacks, picking them from one class...
Add to my recipe book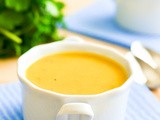 Slow Cooker Red Lentil Soup
By Experiments of a Housewife
06/02/12 03:31
June is the month I had chosen to go on a controlled diet. And what would you know it's here. Now the thing with me is that I can not, for the love of god, diet. See, I don't mind slogging it while exercising, but dieting and me have just never been good...
Add to my recipe book