Very Good Recipes of Bean from Feats of Feasts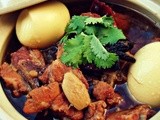 Still out of it & Ribs and Bean Paste Stew
By Feats of Feasts
05/09/12 06:21
**Sigh….I never knew being preggers could make your senses so dull and brainless. I'd think I'd survive a zombie epidemic at the moment. I still have not made anything post-worthy but I did receive some good news about a competition I partook back in March....
Add to my recipe book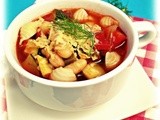 Tuscan Bean Soup
By Feats of Feasts
02/25/12 03:59
Bean soup….hmmm, I don't really get the concept of bean soup because for us here in Malaysia, that's more of a hot dessert thing. But I'm game to try anything Italian because I find sometimes the name sounds fancier and harder than it really is. The weather...
Add to my recipe book