Very Good Recipes of Salad from Feats of Feasts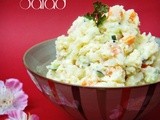 Aff Japan – Japanese Potato Salad
By Feats of Feasts
10/16/13 09:10
I have been seeing an influx of people making this recipe lately and since I have some potatoes left, I thought I'd do this yummy salad as well. This recipe again, belongs to the ingenious Nami of Just One Cookbook, something so simple and yet so satisfying....
Add to my recipe book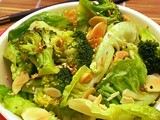 Eat More Vege – Asian Inspired Broccoli & Romaine Salad
By Feats of Feasts
02/07/12 04:26
Now this is what I call an experiment with happy results. I had like bits and pieces of so and so left in the fridge and neither was enough for a whole dish in itself. So I decided to do some sort of salad but didn't want to go down that Western dressing...
Add to my recipe book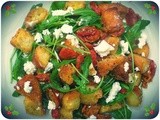 Stale Bread – Panzanella (Bread Salad)
By Feats of Feasts
12/09/11 17:21
I've decided to start theme week today because of personal reasons…hehe…I wish to submit some of these recipes to The Sweet Spot's giveaway. But nevertheless, I still promise you recipes that I hope will help you use up that popular leftover ingredient....
Add to my recipe book