Very Good Recipes of Vegan from food and thrift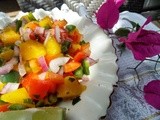 Vegan Mango Salsa...and Picnic Game
By food and thrift
06/28/14 04:23
I'M GOING ON A PICNIC, AND I'M BRINGING...Vegan Mango Salsa JULY IS THE NATIONAL PICNIC MONTH I received an invitation recently from a new food blogger friend... Louise, @ Months of Edible Celebrations for the Online Picnic which sounded really fun to me...so...
Add to my recipe book
Vegan Avocado-Tomato Toasts...for #greenslove
By food and thrift
03/07/12 19:55
Not too long ago, my 5 year old grandson Luca, asked me what my favorite color is...and I answered "green." He immediately answered back, "no, you can't have that for your favorite color; that's my favorite color!"...well, I just laughed about that, which...
Add to my recipe book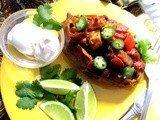 Sweet Potatoes with Vegetarian-Vegan Black Bean Chili
By food and thrift
02/28/12 16:54
As I mentioned to you in the near past, that we have vegetarian, and vegan meals at least 3, 4 times a week, seafood once a week, and the weekend is pretty "iffy"...never knowing what we're going to eat. That's where I get in trouble with my WW points system,...
Add to my recipe book