Very Good Recipes of Caramel from Frieda Loves Bread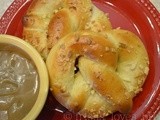 Caramel Crunch Soft Pretzels
By Frieda Loves Bread
09/28/11 16:00
I love a soft pretzel, but I'm not too crazy about all the chunks of salt on top. Top a soft, pillowy, yet chewy pretzel with toasted almonds and dip it in Easy Caramel Sauce, and you've got my attention. The basic pretzel dough is simple: water, butter,...
Add to my recipe book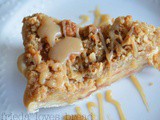 Caramel Apple Crumb Pie
By Frieda Loves Bread
08/17/11 16:22
Imagine. It's fall and the scent of crisp apples are in the air. Take a look at this pie. Is it a pie? A crisp? A caramel apple? Actually, its all three! You don't have to wait until fall to enjoy this amazing pie. Baking an apple pie begins with the right...
Add to my recipe book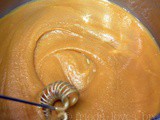 Easy Caramel Sauce
By Frieda Loves Bread
08/15/11 17:00
I needed a quick, easy caramel sauce for a special dessert. This is not a true caramel, like in David Lebovitz's Salted Butter ice cream recipe, but I didn't want to burn my finger. With four simple ingredients and five minutes, it couldn't be easier. In...
Add to my recipe book