Very Good Recipes of Pork from Frieda Loves Bread
Sriracha Pineapple Pork Lettuce Wraps
By Frieda Loves Bread
11/21/13 21:00
This post brought to you by PeiWei. All opinions are 100% mine. Pei Wei Asian Diner is owned and operated by P.F. Chang's China Bistro, which tells me that if you eat here, you will get exceptionally fresh food and high quality entrees. Where else can you...
Add to my recipe book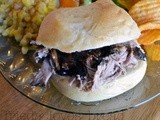 Kitchen Tip: Shredding Pork & Chicken
By Frieda Loves Bread
06/19/12 17:15
We smoked a pork shoulder for Father's Day and served them on homemade French bread hamburger buns. We have always used heat resisant gloves to shred the meat by hand, but I found a new way: In the Kitchen Aid mixer. If you have a Bosch, use the wire whisk...
Add to my recipe book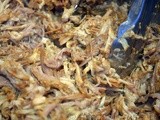 Pulled Pork: Pressure Cooker Style
By Frieda Loves Bread
01/04/12 14:00
I debated making my Cafe Rio Pork Barbacoa in the slow cooker while at church, then felt uneasy leaving something plugged in while I was gone ... my hubby's co-worker had a relative whose electricity went off during church, came back on and surged through...
Add to my recipe book