Very Good Recipes of Lemon from Good Food Ends With Good Talk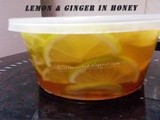 Lemon and Ginger in Honey (Cold Buster)
By Good Food Ends With Good Talk
11/08/13 04:16
Ingredients Lemon: 3 Ginger: 2" piece Honey: 1 ½ cups or as needed Method Of Preparation Cut the lemon into thin slices as per your desire. Thinly slice the ginger. In a dry jar add the lemon slices and ginger slices. Then add the honey to the jar(honey...
Add to my recipe book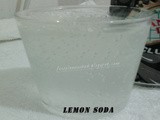 Lemon Soda
By Good Food Ends With Good Talk
10/09/12 19:18
Ingredients Lemon: 1 Sugar: 3tbsp Club Soda chilled: 300ml Method Of Preparation In a serving glass add lemon juice and sugar. Then add a little soda to it. Stir well when the sugar dissolves add the balance soda to it and serve chilled.
Add to my recipe book