Very Good Recipes of Cake from Kitchenkemistry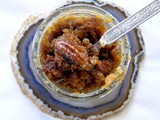 Mini Carrot Cake (Egg free)
By Kitchenkemistry
07/29/13 01:00
American cartoonist Jim Davis said 'Vegetables are a must on a diet. I suggest carrot cake, zucchini bread, and pumpkin pie.' I remember this when I see carrots, zucchini, pumpkin and any cake. This recipe is for mini carrot cake made in a microwave. It...
Add to my recipe book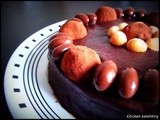 Chocolate Chiffon Cake covered with Ganache and Truffles
By Kitchenkemistry
01/21/12 05:48
A chiffon cake is a composite of a butter cake and a foam cake. The eggs give the fluffiness of a sponge cake and the oil gives the moist texture of a butter cake. This cake does not have butter, but has liquid fat (oil). Chocolate adds a richer taste....
Add to my recipe book