Very Good Recipes of Olive from Le régime selon nono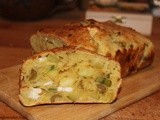 Cake salé courgette, olives et féta
By Le régime selon nono
03/21/12 22:22
Moi, perso je ne suis pas une grande fan des courgettes ! Cependant quand ces dernières sont bien cuisinées, je pourrais en manger tous les jours ! Oui on parle bien de la courgette. Les courgettes ne sont pas caloriques du tout…alors comme nono et encore...
Add to my recipe book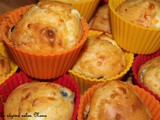 Mini-cupcakes à la tomate séchée, féta, olives
By Le régime selon nono
01/23/12 17:41
Veuillez vous reporter ci-dessous pour la recette en français. As I am taking part of the Breakfasts of the World recipe challenge, i have decided to write this post in english..sorry for those who do not speak english but i will definitively translate...
Add to my recipe book