Very Good Recipes of Garlic from Lemon Love Notes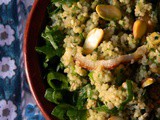 Green Couscous with Hemp Seeds & Raw Garlic
By Lemon Love Notes
06/06/11 13:20
I discovered Yotam Ottolenghi and his dashing, fresh, crisp and delicious recipes in the Life & Style section of The Guardinan, or to be more precise, in his "The New Vegetarian" column and that was love at first site & bite :) I am not a vegetarian myself,...
Add to my recipe book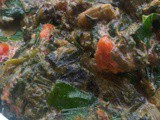 Veggie's Delight: Creamy Nettles with Wild Garlic, Saffron & Mustard Seeds
By Lemon Love Notes
04/14/11 09:02
My mother recently gave me a tray of boiled frozen nettles and, since I have never cooked nettles before (though I lived on this minty plant in spring as a child), I decided to give it a shot. Romanian-style nettle recipes include flour and/or oil, so going...
Add to my recipe book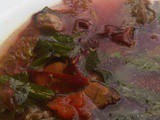 Red Marmite with Orach, Lovage & Wild Garlic
By Lemon Love Notes
04/13/11 09:29
I have started paying heed to the weather forecast, constantly hoping that "next week will be better". There is nothing wrong in hoping, but lately the sun has been playing hide and seek with me. In the meantime, I am making the most of what I can (feebly)...
Add to my recipe book