Very Good Recipes of Ricotta from Lemon Love Notes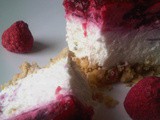 Cheesecake a mi manera: Raspberry Ricotta Cheesecake w Rose Water, White Tea & Sesame
By Lemon Love Notes
Subscribe
04/12/11 09:31
It is very likely that you all know how to make a cheesecake. Just looking at it, one can easily notice what it's made of: a biscuit base and a creamy cheese layer topped with whatever the pastry chef was inspired by. Frankly, baking makes me nervous because...
Add to my recipe book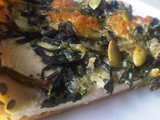 Spinach & Ricotta Cheese Pie with Thyme, Sumac and Pumpkin Seeds
By Lemon Love Notes
Subscribe
03/30/11 20:52
When it comes to baking, I'm still at beginner level :( However, I am working hard to hone my skills :) To quote Cake Boss, "cooking is a passion, baking is a science". I baked this delicious pie with a little help from my mother who gave me the French...
Add to my recipe book